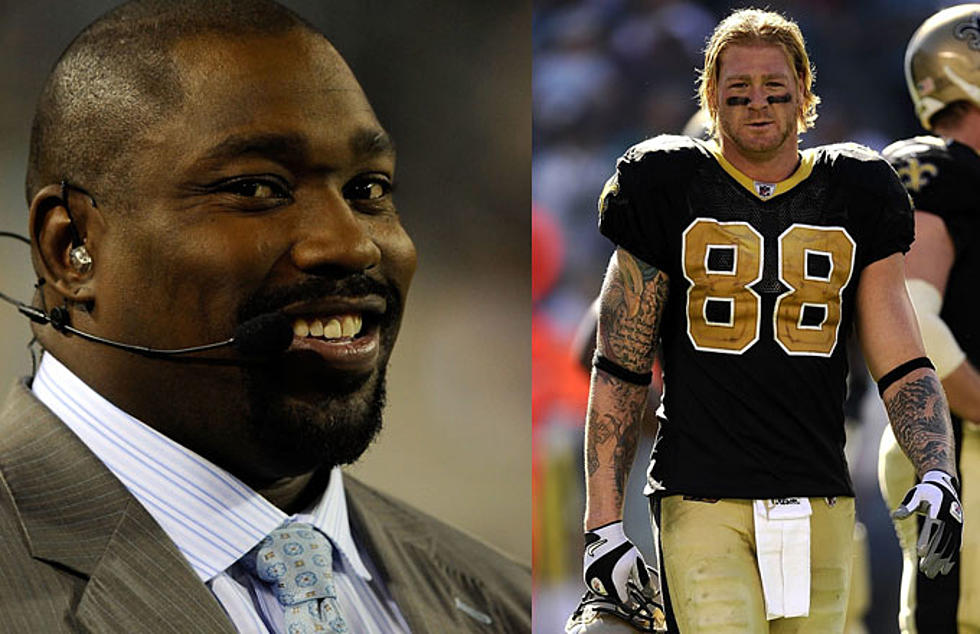 Warren Sapp Tweets Former Saint Jeremy Shockey Is Bounty "Snitch"
Left--Warren Sapp/ Jeremy Shocky Right (Getty Images)
Former Tampa Bay Buccaneer turned NFL football analyst Warren Sapp tweeted today that former New Orleans Saints tight end Jeremy Shockey is the one who notified the NFL about the "Bounty" program.
Warren Sapp's twitter account is blowing up now.  Here is what what said:
Warren Sapp says he's "heard" who the whistle-blower in the Saints bounty case is.When a Twitter follower of the former NFL player guessed Jeremy Shockey, Sapp responded, "BINGO!"
Shockey responded incredulously to Sapp's tweet: "really?? Wow did I also have something to do with the um scandal?"
Sapp was originally critical of the unidentified Saints' "snitch" when the NFL released its findings in early March. Falcons wide receiver Roddy White expressed a similar sentiment in a tweet Wednesday: "By the way y'all got a lot of snitches in your locker room and organization no loyalty"Source--USATODAY
Speaking of Tweets, Here is what Drew Brees tweeted after he learned about Paytons suspension:
@drewbrees tweeted, "I am speechless. Sean Payton is a great man, coach, and mentor. The best there is. I need to hear an explanation for this punishment."
Of course all this is over the stunning news that Head Coach Sean Payton of the Saints has been suspended from the league for a year over the bounty scandal.  Payton's suspension is affective starting in April of this year meaning he will not be able to coach the New Orleans Saints this entire upcoming season.  Payton also losing his 7 plus million dollar salary for a year.
We will keep you updated on this.