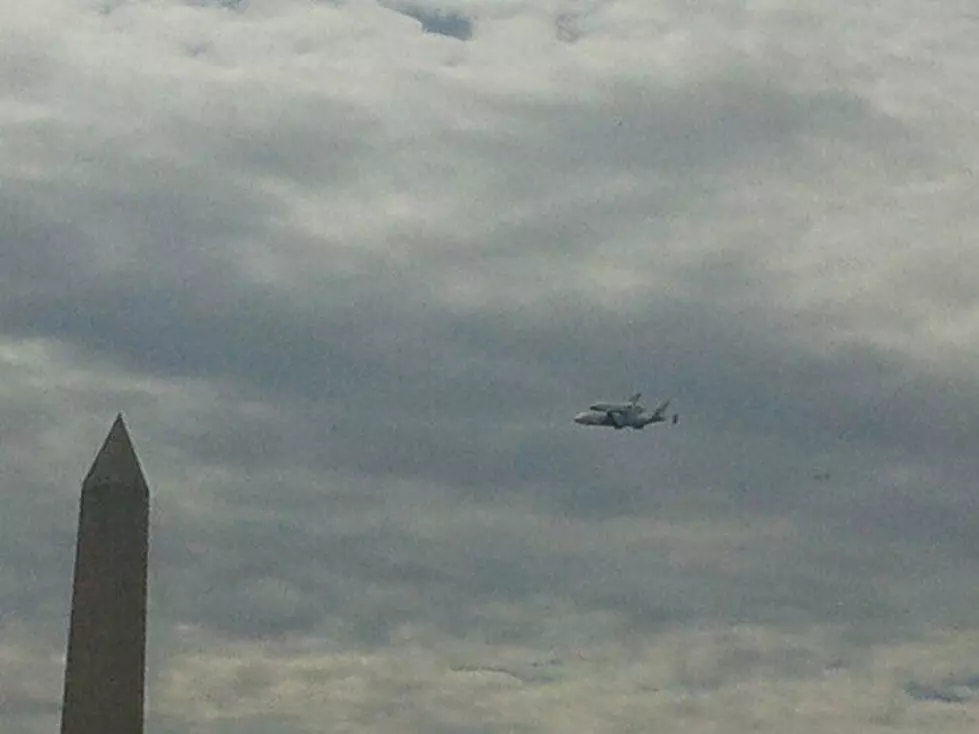 Space Shuttle Discovery Now Has A New Home
(Photo provided by Linda Minton)
The cool thing is that I have family who live in the Maryland and Washington D.C. area who were on hand to see the shuttle come in.  My cousin Linda posted a picture that she took on her Facebook page and I wanted to share it with you guys.
How cool is that?  She was in the heart of downtown DC and saw this and snapped a picture.
It was a different flight for Space Shuttle Discovery Tuesday as it hitched a ride from the Kennedy Space Center in Brevard, Fla., mounted atop a 747.

The plane soared 1,500 feet over the nation's capital, gliding over the Potomac River, Reagan Airport and National Mall before touching down at Dulles Airport.

After 39 trips into space, NASA's oldest surviving shuttle now will settle into its retirement home at the Smithsonian institution's facility at Dulles International Airport, just outside Washington, D.C. Space shuttle Enterprise will head to New York City. Endeavour will go to Los Angeles. Atlantis will stay at the Kennedy Space Center in Florida.
I think it is kind of cool that a part of my family got to see history today.  Just wanted to share with ya!
More From Cajun Radio 1290 AM