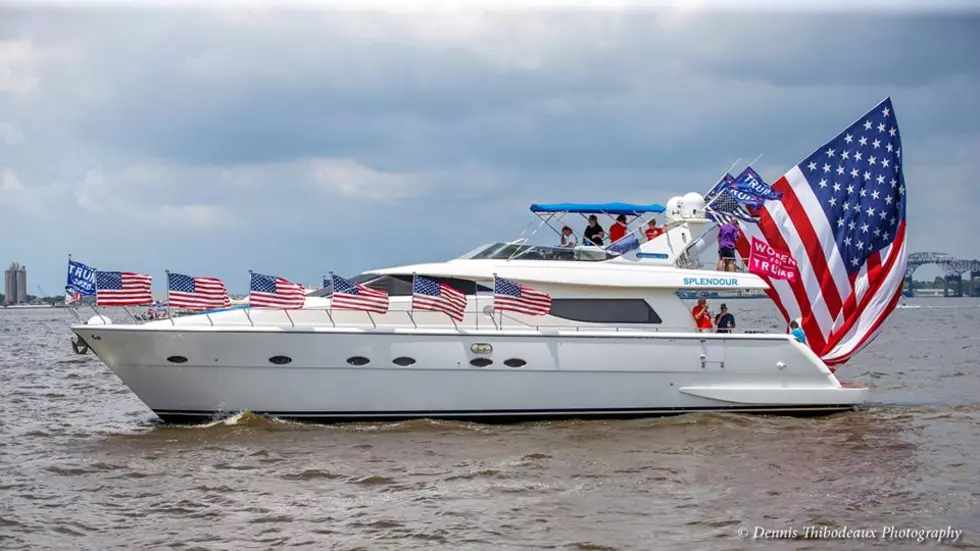 Photos From Saturday's SWLA Boaters For Trump Boat Parade
Dennis L Thibodeaux
This past Saturday, boaters from all around Southwest Louisiana and Southeast Texas gathered at the lake in front of the Lake Charles Civic Center for the SWLA Boaters for Trump Boat Parade. The boaters began their line up at Moss Lake early Saturday morning, then headed over to Prien Lake to meet up with another large group. Once meeting at Prien Lake, the boaters headed toward the Lake Charles Civic Center to wave at bystanders along the seawall.
The event was organized through Facebook and executed on the water with communication through the boater's marine radios. The U.S. Coast Guard was on duty, along with two boats from the Calcasieu Parish Sheriff's office, making sure all of the boaters were acting in a safe manner on the water. As they took off up the ship channel, they passed the Port of Lake Charles, waving at the tug boats. Residents of Lake Shore Drive stepped out onto their docks to wave to the boaters as they passed.
Once reaching the Civic Center, they paraded one-by-one in front of the seawall for one heck of a parade. It is estimated over 400 boats showed up to pack the lake in front of the Lake Charles Civic Center. Take a look at the gallery of some of the boaters captured by Lake Charles' very own, Dennis Thibodeaux.
Photos From SWLA Boaters for Trump Boat Parade
Enter your number to get our free mobile app
Essential Cajun Survival Kit
More From Cajun Radio 1290 AM