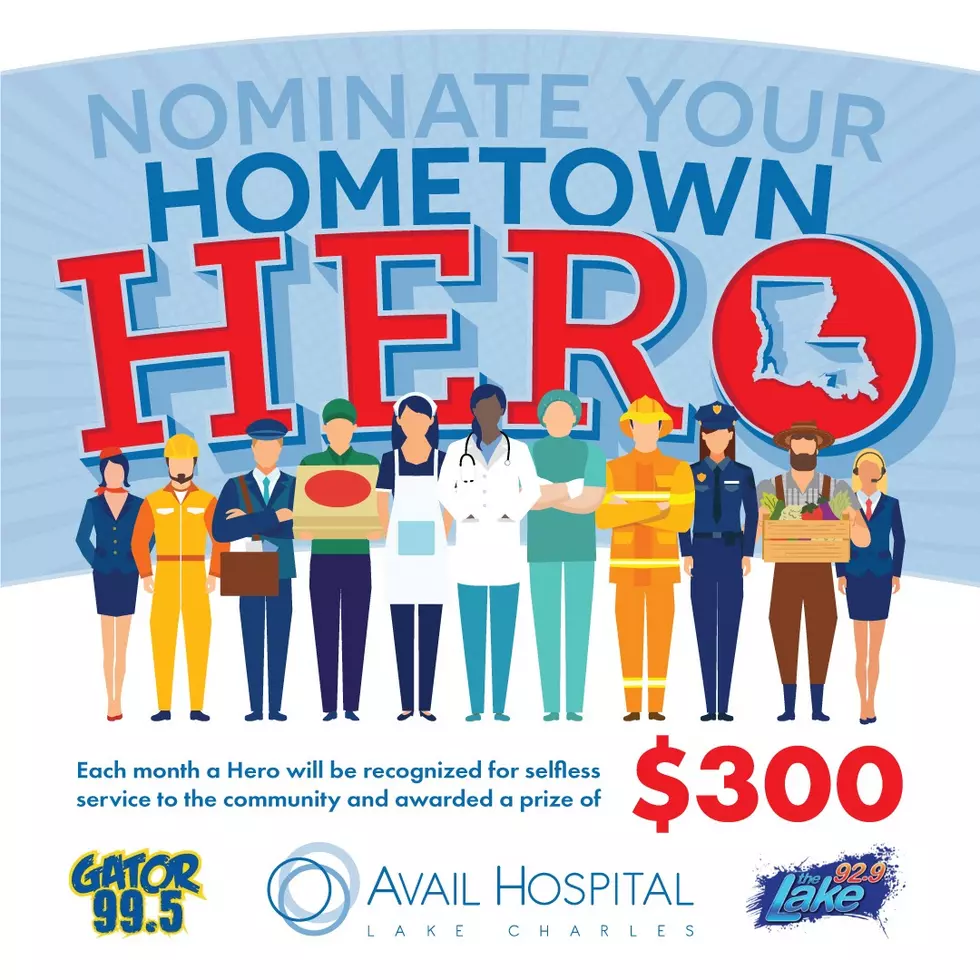 Nominate Your Hometown Hero and They Can Win Cash!
Avail Hospital
SWLA is full of amazing people. People that would give their last dollar to help someone in need. We have proved that time and time again just in the past few years as we still continue to rebuild from Hurricanes Laura and Delta. Those people we call heroes do it not for the glory, but because they want to help their fellow humans around them. A lot of us were taught to do good for others the way you'd hope someone would do for you if you were in need. Now, we have a chance to not only recognize those people but give them a little reward for being such a hero.
We have teamed up with Avail Hospital in Lake Charles to help recognize these heroes in our area and give them a small thank you for being so amazing. We are calling it "Hometown Heroes". This program is designed to recognize those amazing, and special, people that go above and beyond to help those around them. This hero could be involved in community events, doing outstanding services for their community, or going out of their way to help an individual in need in a special way. No matter what the act of kindness or being a "hero" is, we want to hear about it.
If you want to nominate a Hometown Hero for this amazing chance to get the recognition they deserve, you can head over to the Avail Hospital Lake Charles Facebook page and look for the "Nominate Your Hometown Hero" logo. Comment below the photo of why your hometown hero should receive this recognition. Don't forget to include your hero's name in the nomination. It doesn't have to be a novel, we just want to know why your hero should not only be recognized and receive the award for the month's award. Avail will pick a Hometown Hero each month and we will recognize that hero on the air and on our social media to let the whole community know that we do have heroes walking among us and help inspire others to do the same in our community.
We know that these acts of kindness are truly done from the heart and done without the need for making a "big stink" about it. We also know that there is no recognition big enough for some of our heroes in the area. However, they do deserve as much recognition and praise as we possibly can give. Get your nominations in now, we will announce the July Hometown hero at the end of the month!
LOOK: The most extreme temperatures in the history of every state
Stacker
consulted 2021 data from the
NOAA's State Climate Extremes Committee (SCEC)
to illustrate the hottest and coldest temperatures ever recorded in each state. Each slide also reveals the all-time highest 24-hour precipitation record and all-time highest 24-hour snowfall.
Keep reading to find out individual state records in alphabetical order.
More From Cajun Radio 1290 AM