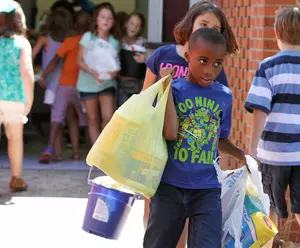 Amid Louisiana Flood Disaster, Youngest Bear Mental Scars
LOuisiana Floods Children (John Fitzhugh/Biloxi Sun Herald/TNS via Getty Images)
DENHAM SPRINGS, La. (AP) — After the flooding in south Louisiana, mental scars are already showing on the youngest victims.
The disaster has left 13 dead, prompted more than 30,000 rescues and left an estimated 40,000 homes damaged.
Children who endured harrowing rescues are returning home to a jarring landscape that even their parents can scarcely grasp. Homes filled with ruined possessions must be gutted. Damaged schools and daycare centers are closed indefinitely. Parents juggling jobs and cleanup work must also line up caretakers for their kids.
But signs of recovery are emerging.
Gov. John Bel Edwards announced FEMA will start paying for hotel rooms for storm victims. A disaster food stamp program begins Monday. And the state intends to begin consolidating shelters this weekend.
Copyright 2016 The Associated Press. All rights reserved. This material may not be published, broadcast, rewritten or redistributed.
More From Cajun Radio 1290 AM