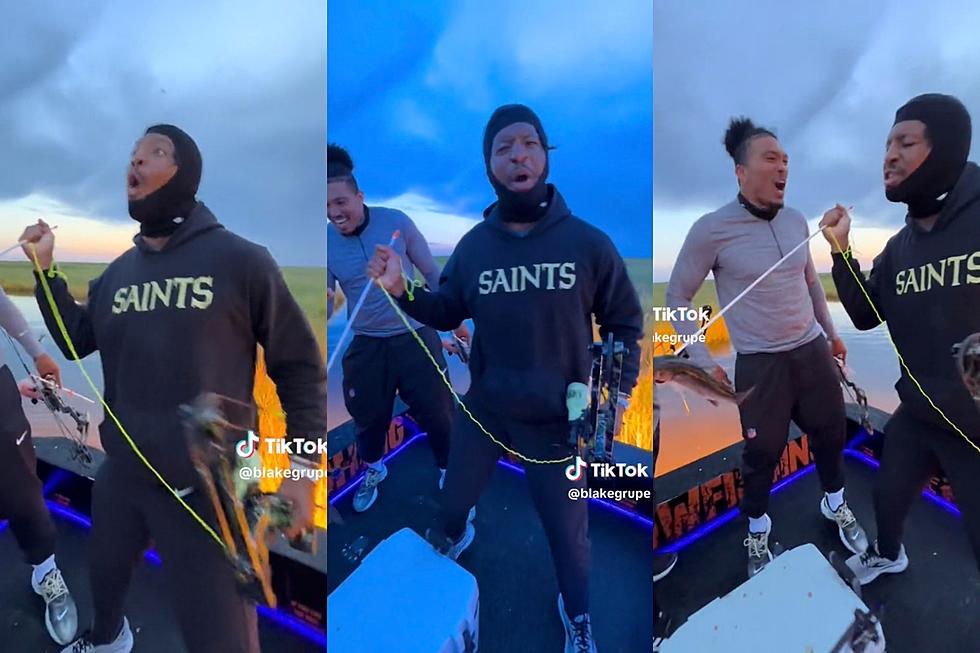 The New Orleans Saints Went Bow Fishing and, of Course, Jameis Winston Stole the Show
TikTok
The New Orleans Saints did some unique Louisiana-style team building that looked like a total blast.
Based on social media posts from multiple Saints players, the team ventured out on a bow-fishing trip earlier this week with a local company that took them all throughout the waterways of south Louisiana.
Saints insider Jeff Duncan confirmed the trip, reporting that the New Orleans Saints players connected for the team-building exercise on Wednesday night (Jun. 7) which led to their offseason workouts being canceled on Thursday (Jun. 8).
Based on the photos we've seen, players like Cam Jordan, Tyrann Mathieu, Derek Carr, Jameis Winston, Michael Thomas, and many others made the bow fishing trip. New Orleans Saints head coach Dennis Allen was also along for the ride.
Matt Grupe, a UDFA rookie kicker for the Black & Gold, shared a TikTok video that highlighted an animated Jameis Winston as the life of the party on the fishing trip. You can tell the competitive spirit exists off the field just as much as we are used to seeing it from the guys on the field.
Jameis' demeanor on the bow fishing didn't go unnoticed as he quickly became the talk of social media with one guy saying he's "that one guy that gets invited to all the function(s) simply off of vibes."
The internet could only agree wholeheartedly.
It wasn't the first time the Saints went bow fishing as a team as there are social media posts dating back to at least 2014 from when Drew Brees and the team also did their teambuilding on the water.
Another clip from 2018 shows just how dramatic and competitive it can get out there on the water.
New Saints QB Derek Carr continues his discovery of Louisiana with his latest taste of the boot state, posting this photo on Instagram along with the caption describing the experience as "electric."
His former Raiders teammate and rumored WR target for the Saints (although that may be more wishful thinking from fans) Hunter Renfrow took notice in the comments which got a lot of folks talking.
Is bow fishing going to be the recruiting tool that gets Hunter Renfrow to give NOLA a look? Is this team building going to pay off on the field for the Saints and a lot of the new players for next season?
Only time will tell, but for now, it's undeniable that this team is enjoying great adventures and even better Louisiana cuisine based on this week's catch.
LOOK: Here are the states where you are most likely to hit an animal
Hitting an animal while driving is a frightening experience, and this list ranks all 50 states in order of the likelihood of such incidents happening, in addition to providing tips on how to avoid them.