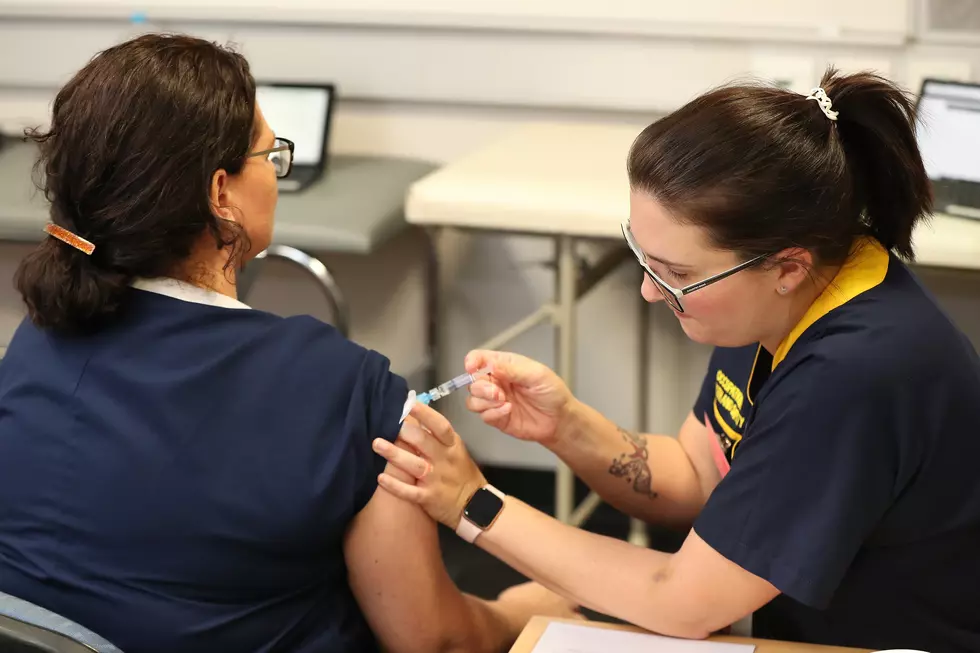 Important Things To Know If Your Going To The McNeese/LSU Game Saturday
Photo by Paul Kane/Getty Images
Football fans from both McNeese and LSU are gearing up for this Saturday's game at Tigers Stadium in Baton Rouge.  It will be the third time that the Pokes and Tigers have locked up in their programs' histories.
If you are going to the game on Saturday, there are some really important things you will need to know especially the COVID-19 protocols for the game.  Here are the frequently asked questions about what you will need to do to get into the game.
Matt Bonnette with McNeese Athletics provided us with some really great info for you to know.
Does it matter which vaccination I receive? 
Any of the COVID-19 vaccines that have received either full approval or emergency use authorization from the U.S. Food and Drug Administration or the World Health Organization will be accepted.
I am partially vaccinated. Will I need to be fully vaccinated to enter Tiger Stadium in 2021? 
Proof of at least one dose of a COVID-19 vaccine that has received full approval or emergency use authorization from the U.S. Food and Drug Administration or the World Health Organization will be sufficient.  Guests can also provide proof of a negative COVID-19 PCR test.
Will LSU Athletics offer gameday vaccinations? 
LSU Athletics and Our Lady of the Lake will host a vaccination event on gameday at the PMAC from 12-6:30. Proof of vaccination will be provided on site and will qualify for entry into Tiger Stadium.
What if I have a religious exemption or medical concerns regarding vaccinations? 
If religious beliefs and practices or medical concerns prevent one from taking the vaccination, a PCR test will be the best method to verify one's current COVID-19 status.
What if I had an infusion for antibodies? I cannot get vaccinated at the moment, and I have to wait 90 days. How can I attend? 
Antibody infusion for COVID-19 will not affect your COVID-19 test results. However, you may test positive for weeks after the illness. Proof of vaccination or a negative COVID-19 PCR are required to attend.
Guests who are in the 90-day window can be prescreened at the PMAC on gameday.
FAQS: TESTING 
What qualifies as proof of a negative COVID-19 PCR Test? 
Digital or hard copy proof of a negative COVID-19 PCR test taken within 72 hours of kickoff prior to entering the stadium will qualify as proof.
Will you accept test results other than a PCR test? 
ONLY NEGATIVE PCR TESTS WILL BE ACCEPTED FOR ENTRY INTO TIGER STADIUM IN 2021 for fans who choose to present a negative test instead of proof of a COVID-19 vaccine. A PCR test is the gold standard for testing and will be required for entrance for those who are unvaccinated.
Will LSU Athletics pay for my test? 
No. Guests without proof of vaccination will be required to pay for their own tests.
What if I don't get my test results in time? 
Some clinics and hospitals have PCR tests that could require up to 72 hours before results are reported. However, many urgent care clinics and medical facilities have rapid PCR tests available. These results are often reported within 20-30 minutes, with results reported as official lab reports.
Will LSU provide game day testing?
LSU Athletics will offer limited testing at the PMAC on Sept. 11 from 2:30 to 5:30 p.m. to guests who pay and preregister at this link. Registration closes at 5 p.m. on Friday, Sept. 10.
What is the cost of game day testing? 
Game day testing for fans who preregister will cost $35 per test. Click here to preregister.
How long will it take to receive my game day testing results? 

Results will be available approximately 45 minutes after being tested and delivered via text and email.
Will I need to wait for the results of my test? 

No. Fans who test on gameday can leave the testing area after completion of their test.
So there are the things you need to know to get into the stadium Saturday.  The LSU Mcneese game kicks off at 7:00 pm.
Can You Pronounce These Nine Louisiana Places Correctly?
More From Cajun Radio 1290 AM