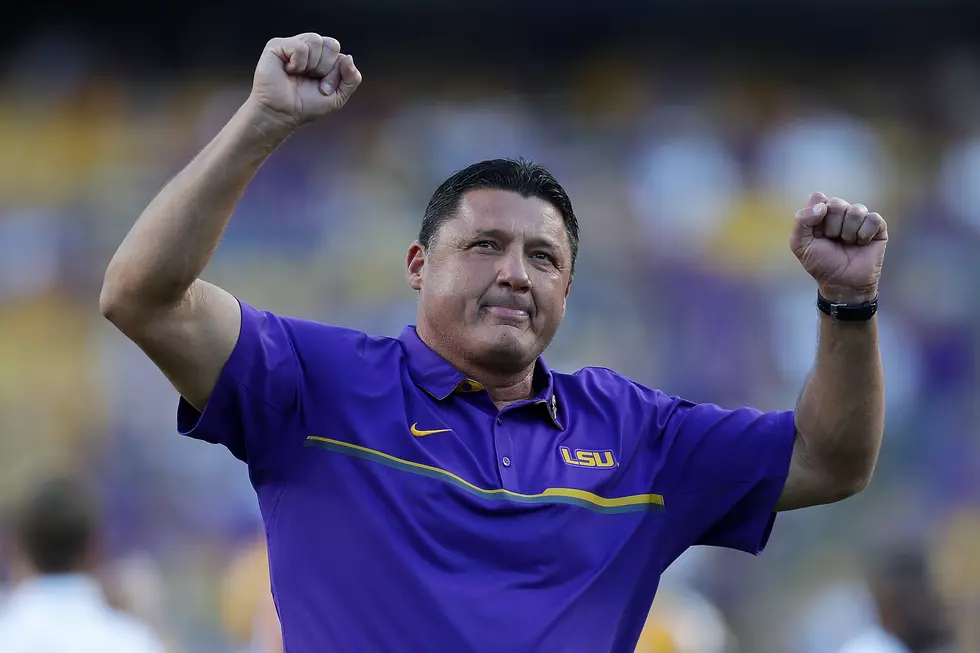 Ed Orgeron Will Do 25 Interviews Today On ESPN
Ed Orgeron gets first win as LSU head Coach (Getty Images)
New LSU Football coach Ed Orgeron is headed to the ESPN studio's today and will go through what ESPN calls "The Car Wash".  It is  a series of almost 25 interviews on 11 different shows.
Orgeron's day will start at 7:30 a.m. this morning with an appearance on Mike & Mike on ESPN2.  Then the "Car Wash" begins.
Coach O is scheduled to appear on SportsCenter at 8:30 a.m. followed by ESPN First Take, On SportsCenter again at 10 a.m., The Paul Finebaum radio show at 10:40 a.m. and Coast to Coast at 11:30 a.m.
Hopefully Coach O will get a break to eat lunch because he is back on with Stephen A Smith Radio Show at 1:15 p.m.  Then Orgeron will appear on the Ryen Russillo Radio Show at 1:30 p.m. followed by Highly Questionable in TV on ESPN at 3:30 p.m., College Football Live at 5:00 p.m. on ESPN2.
Coach O's day finally ends with yet another appearance on ESPN's SportsCenter at 6:00 p.m.  Whew we are exhausted for the coach.
More From Cajun Radio 1290 AM