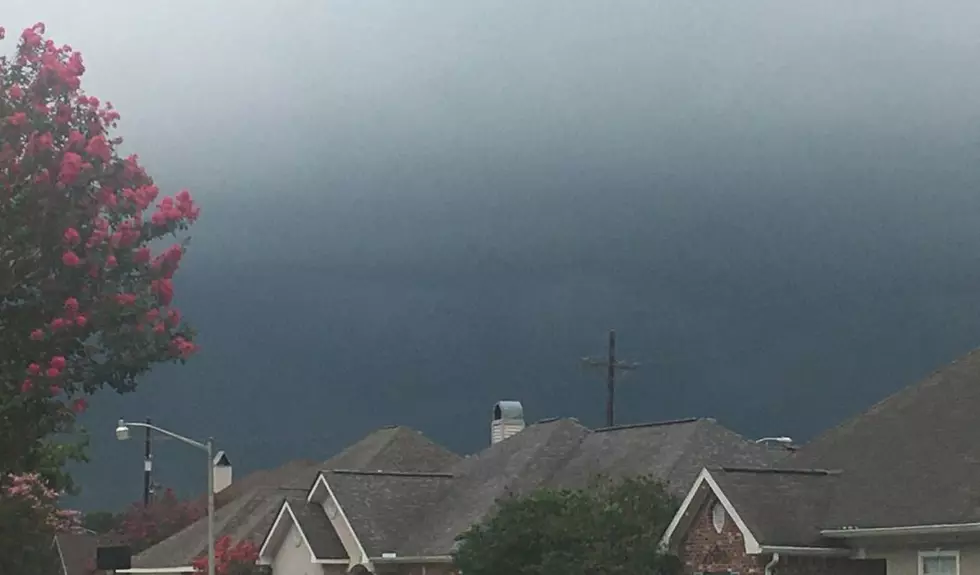 Wind Advisory, Severe Storm Threat for South Louisiana Today
Staff Photo
We are barely into spring and already Mother Nature has been showing her volatile side. The best several weeks have seen round after round of severe weather and storms move across the country. Fortunately for Louisiana, we have escaped most of the wrath of the worst of the weather. That's not to say we haven't seen our share or are going to see our share over the next several days.
A cold front and associated storms are approaching Louisiana from the west this morning. That frontal system is expected to kick off another round of strong to severe storms over a large portion of the state today. Forecasters believe the frontal system will eventually stall out over southern or central Louisiana tomorrow. As the system sits on top of the region various energy impulses will move along the frontal boundary kicking off the threat of heavy rain and possible severe storms.
The Storm Prediction Center has most of the state north of US 190 in the slight risk zone for severe storms. The rest of south Louisiana will be at a marginal risk for severe weather during the day today. It does look as though the intensity of the thunderstorms will die down on Friday but there will still be plenty of rain around the area.
For today, the western half of the state remains under a wind advisory. Forecasters say sustained winds of 20 to 25 mph will be common across the region today. There could be gusts to 35 mph as well. This means loose items such as trash cans, patio umbrellas, limbs, and other yard and garden ornaments could be damaged or displaced by the strong breezes.
We should also note that motorists along I-10, US 190, LA 14, and other roadways that run east to the west should expect a strong crosswind. This means vans, trucks, and other high-profile vehicles could be buffeted around by the strong breezes, and maintaining lane control could become an issue.
KATC Meteorologist Rob Perillo is suggesting that the Lake Charles and Acadiana area will not see strong showers and storms until at least Thursday morning. So today will be breezy and warm with a chance of scattered passing showers. By Thursday the rain threat ramps up and so does the chance of stronger storms. But rainfall, and a lot of it, could be a bigger issue before this storm system moves out of the area over Easter weekend.
As you can see above the rainfall projection models Rob used in his piece published on the KATC website shows almost five inches of rain for the Lafayette area. Remember, that's a model projection and not an official forecast but rainfall amounts of 2 to 4 inches across the area will be common by Sunday afternoon.
LOOK: 20 American foods that raise eyebrows outside of the US
Stac



ker
compiled a list of 20 unusual and uniquely American foods that might raise eyebrows outside the U.S.