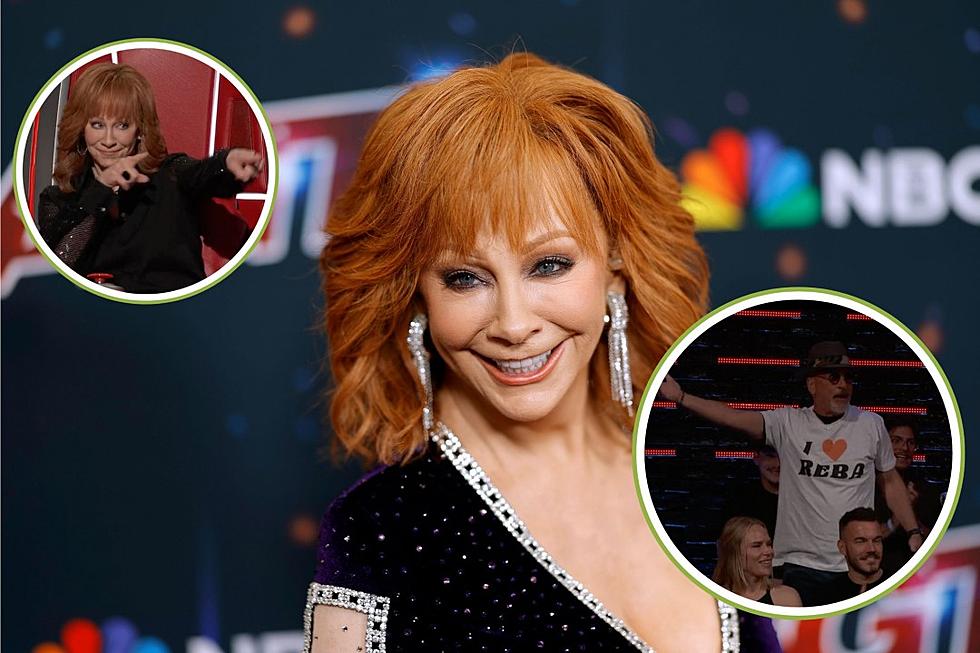 Howie Mandel Crashes 'The Voice' Set to Get Reba McEntire's Autograph [Watch]
Frazer Harrison, Getty Images/YouTube
The worlds of America's Got Talent and The Voice collided on Tuesday night (Sept. 26), when AGT judge Howie Mandel took a break from filming the season finale to express his Reba McEntire fandom.
The Voice cast were in the middle of Blind Auditions when they started noticing a loud — and familiar — voice roaring McEntire's name from the studio audience. Eventually, show host Carson Daly addressed the distraction to ask the yelling fan to calm down, but he soon realized that this was no ordinary studio audience member.
"Hey, is that Howie Mandel?!" Daly said, as the camera panned to Mandel wearing a white T-shirt reading "I ❤️ Reba."
"Howie, what are you doing here?" Daly continued. "I love Reba!" the longtime AGT host screamed back. "We're right next door shooting the AGT finale. Would you sign my shirt?!"
Of course, McEntire agreed, and Mandel came up onstage, requesting the country legend's autograph "right on the heart" of his T-shirt as the other Voice coaches laughed and watched from their chairs. "Would you be still?" McEntire asked, trying to sign her name as Mandel continued to roar his excitement at meeting his country icon.
"I can't, I love you!" Mandel replied, giving her a big hug and leading the crowd in a chant of "Reba! Reba! Reba!" Even coach Gwen Stefani joined in on the chant, though John Legend mostly seemed mystified, wondering "What is happening?" as he surveyed the scene from his big red chair.
It's McEntire's first season coaching The Voice. In Season 24 of the show, she stepped in for longtime country coach Blake Shelton, who announced his retirement after Season 23.
Tuesday night's cameo from Mandel isn't the first time that there's been McEntire-focused crossover between the two reality shows. Earlier in September, McEntire was a guest performer on America's Got Talent. McEntire was previously a guest judge on that show in 2011.
The finale of AGT aired on Tuesday night, and the show will crown a winner for Season 18 on Wednesday (Sept. 27). Meanwhile, The Voice's new season is just getting started: The premiere episode aired on Sept. 25, and the coaches are still in the process of securing contestants to their team via the Blind Auditions.
Country Singers You Forgot Got Their Start on Reality TV:
More From Cajun Radio 1290 AM